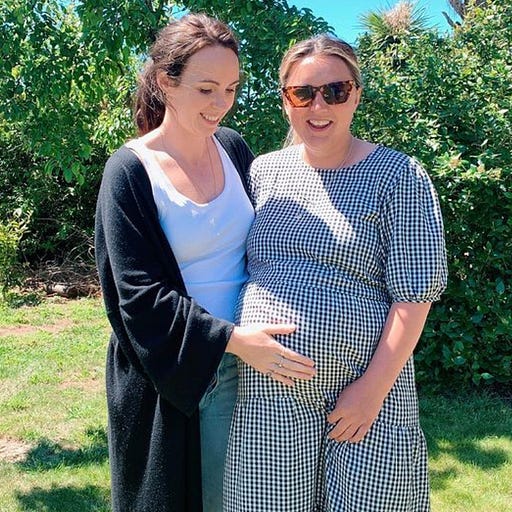 Jul 30, 2021 • 46M
The Mother Yarns: Episode Two
The Surrogacy Experience
The parenting podcast you were warned about! It's The Mother Yarns! Rebecca Keil and Emily Writes are mamas and best friends and they want to laugh and cry with you and journey on this wild ride that is parenting.
It's episode two and it's a special one. Rebecca and Tess have a chat about what their surrogacy experience was like together. They've never had a proper debrief so it's pretty exciting.
I felt really privileged to be able to be part of the conversation and ask them questions that I know people are interested in. I was blown away by their courage in being so honest.
In this episode we talk about infertility, birth injuries and post birth injuries, and post-natal depression. Please take care and if you need help to process your birth - please check out these resources. You can also contact Little Shadow. They offer in person or online counselling for parents.
Our episodes are sent to paid subscribers on Wednesday and to everyone else on Friday. Then they'll be on Spotify and other podcasty places. Our episodes are sent in separate emails because that's how Substack rolls!
On this episode we have Anna Coddington's beautiful, uplifting, stunning song Beams featuring Louis Baker. Thank you Anna for letting us use your beautiful song to end this special podcast. Follow Anna on Instagram and Spotify.
As we've said, we want to make this podcast advertising-free. In order to do this and to pay for the cost of recording, flights to be together to record, and the wonderful work of our producer Miriam - we need to fund it! We also want to be able to pay our guests for their time and generosity in coming on the show. So far the podcast is self-funded by Rebecca and I.
With you signing up for a paid subscription here - you'll be keeping the podcast going.
And here's what you'll get with your paid sub:
The podcast episode earlier than everyone else (on a Wednesday) direct to your inbox.

Mini-episodes nobody else will get.

Q&A sessions that nobody else will get.

Content that nobody else will get.
Finally, thank you to our amazing producer Miriam who makes us sound good and to Moira Jean for her amazing song that we're using as our theme song. Listen to Moira Jean on Spotify.