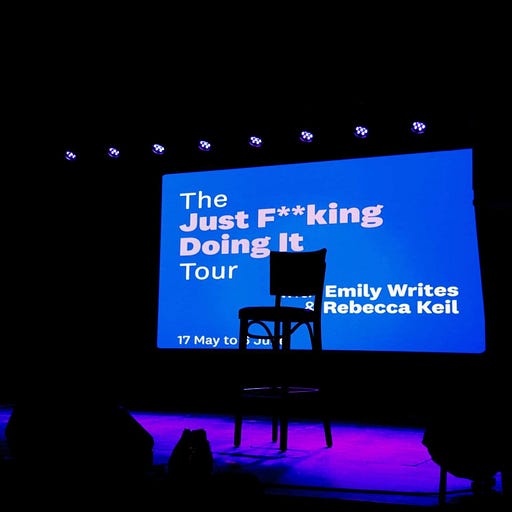 Jul 30, 2021 • 29M
The Mother Yarns: Episode One
The parenting podcast you were warned about! It's The Mother Yarns! Rebecca Keil and Emily Writes are mamas and best friends and they want to laugh and cry with you and journey on this wild ride that is parenting.
Oh my gosh it's here! So exciting. We can't even tell you how exciting this is! We've been recording ever since the Just Fucking Doing it tour finished. This first episode was recorded the day after our Wellington show was cancelled due to Level Two.
Our episodes are sent to paid subscribers on Wednesday and now it's your turn! You'll also be able to find these episodes on Spotify and all other podcasty places.
We got really excited and decided to send out two episodes today. At 6pm you'll get our second episode which is called The Surrogacy Experience. It will be in a separate email because you can't send more than one recording in an email!
WARNING: We talk about what it would be like to get banged by (and bang) cartoon characters in this episode. There's quite a bit of sex (not sexy) talk in it - so don't listen to it with little ears around unless you want to have awkward conversations at school on Monday about it. Also don't listen to it if the idea of imagining fucking Thomas The Tank Engine stresses you out. We also talk about poops in a sexual capacity. And of course Rebecca talked about her hemorrhoids and anal fissure because she always does.
Basically, it was in this very first episode that we realised we'd never ever get sponsorship.
In this episode we wrap up the tour and talk about why we want to do a podcast together and what the podcast will be about!
We really hope you enjoy it, we are really quite nervous about it.
Please let us know what you think and what you'd like us to talk about in coming episodes. Our next episode will drop next week and then we will move to fortnightly episodes. We'll have episodes up on all of the usual places but if you sign up here you'll get it first.
In our next episode that you'll get later today you'll hear Rebecca and Tess (the mama whose baby she birthed) having a debrief on their whole surrogacy process. They've never talked publicly about some of the stuff they discuss on the podcast - it's pretty special. We'll be doing another private Q&A for paid subscribers.
As we've said, we want to make this podcast advertising-free. In order to do this and to pay for the cost of recording, flights to be together to record, and the wonderful work of our producer Miriam - we need to fund it! We also want to be able to pay our guests for their time and generosity in coming on the show. So far the podcast is self-funded by Rebecca and I.
With you signing up for a paid subscription - you'll be keeping the podcast going.
And here's what you'll get with your paid sub:
The podcast episode earlier than everyone else (on a Wednesday) direct to your inbox.

Mini-episodes nobody else will get.

Q&A sessions that nobody else will get.

Content that nobody else will get.
Finally, we would like to say a huge thank you to our amazing producer Miriam who makes us sound good even when we are talking absolute garbage. And a huge thank you to Moira Jean for her amazing song that we're using as our theme song. We are absolutely obsessed with Moira Jean. She's the front woman of choice for Raw Collective, The Fades and Superbad and her song Right or Wrong is a farken' banger. Listen to it on Spotify.
Also a big thanks to our village for helping us make this podcast happen. And to all of you for listening. Especially we want to thank all of those who have subscribed. You're the absolute best.

So, who do you think fucks best?